CHARACTER TRAIT:  Accomplishment
Reference:  II Timothy 4:7
Bible Verse:  I have fought the good fight.  I have finished the race.  I have kept the faith.
Definition:  Successfully finishing what I set out to do
Opposite:  Doing a job carelessly or incompletely
SPELLING WORDS:  LESSON 34
Pattern Words – Homophones
1.  to
2.  too
3.  two
4.  wait
5.  weight
6.  rode
7.  road
8.  rowed
9.  piece
10.  peace
11.  cents
12.  sense
13. scents
14.  wear
15.  where
16.  their
17.  there
18.  they're
High-Frequency Words
19.  once
20.  entire
Challenge Words
*Jupiter
*Uranus
PARENT CORNER
IN APPRECIATION
Thank you to all who were able to come out and join us for Open House and The Fine Arts Festival Night last Tuesday evening.  The third graders did  a fantastic job square dancing and looked terrific in their Fresno History costumes!  They enjoyed being your personal tour guide for the evening and showing you their hard work and accomplishments for the year.  I am so proud of them!  I also want to thank all of your parents who so diligently helped us prepare for Open House Night by giving of your time and love.  What a blessing you were to me!
MOTHER'S DAY
I pray you had a beautiful Mother's Day weekend with your family and felt loved and appreciated.  Mothers  play such an important Godly role in the development of our children and we thank you for all of your love, guidance, patience, and care extended. Thank you for your tremendous help in the classroom this year, field trips, and holiday celebrations.  You are amazing and dearly appreciated!
ACADEMICS
Amid the fun rewards and activities planned for the next two full weeks, we still will set our focus on finishing strong academically, behaviorally, and spiritually.  Please have your child arrive on time.   Academics will continue as we near the "Finish Line."  We will run the race God has set before us and set our eyes on Jesus to do our very best!
READING COUNTS
Try this link recommended by Mr. Robert Hyatt, our technologist specialist, if you have not been able to access SCHOLASTIC READING COUNTS program this weekend:
Here is the link for student access:
BENCHMARK ASSESSMENTS
This week we will complete our Benchmark Assessments with Scholastic Reading Inventories during i-pad Computer lab reading to measure growth in comprehension lexile scores along with  quarterly assessments in math, and writing.
END OF FOURTH QUARTER
The end of the 4th quarter is quickly approaching.  Please note that last day for students to turn in re-do assignments or re-take tests will be FRIDAY, MAY 15th.   Please check your child's  RED HOMEWORK FOLDER for assignments along with grades on Powerschool and make sure they have turned in all assignments.
FOURTH QUARTER EXPECTATIONS FOR SCHOLASTIC READING COUNTS
Please check your child's weekly Reading Progress Report this Monday to note progress and help set personal goals.  The deadline for completion of the goals listed below is Friday, May 15th.
For a C in Reading:  Earn the Red Award – 50 Points
For a B in Reading:  Earn the Bronze Award – 100 Points
For an A in Reading:  Earn the Silver Award – 250 Points
For an A+ in Reading:  Earn the Gold Award – 500 Points
Twenty to thirty minutes is given daily for silent sustained reading as well as forty-five minutes in Library Experience each week.  Students may also use class time to read after all required daily board assignments are completed.  Students may take quizzes on Scholastic books or Red Star books each Monday during Computer Lab with Mr. Hyatt as well as take supervised quizzes at home each week.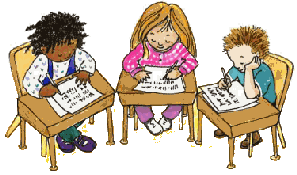 YEAR-END CLASS REWARDS
Ice Cream Party- Student must earn 100 points for Reading Counts OR master their Third Grade Level 4×4 Math facts in addition and subtraction.  (Monday, May 18, 2015 in classroom @ 11:35 AM)
Pizza Party- Students must earn 500 points for Reading Counts OR become a Lifetime Member in our 4 x 4 Math Club. (Tuesday, May 19, 2015 from 11:35 AM-12:25 PM.  Off-Campus/We will walk across the street to Me'N Eds.)
 Students have until Friday, May 15th to complete these goals.
END OF FOURTH QUARTER
The end of the 4th quarter is quickly approaching.  Friday, May 15th will be the last day for students to turn in re-do assignments.  Please check your child's grades on Powerschool and make sure they have turned in all assignments.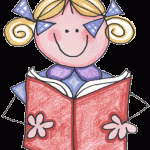 FROM OUR LIBRARIAN:  END OF THE YEAR LIBRARY SCHEDULE
Thursday, May 14th is our last visit to the library.  All books for our class are to be returned no later than THURSDAY, MAY 14TH.    A NOTICE OF UNRETURNED BOOKS WILL BE ISSUED TO STUDENTS.   There is a fine of $25.00 for each item that is not returned.
Many wonderful titles are lost each year because they are not returned. We greatly appreciate your assistance in getting books back in and onto the shelves so the collection is ready to go again in August.  Please contact me if you have any questions.
Lin Brown, Librarian
299-1695 ext 119
PERSONAL CLASSROOM LIBRARY BOOKS
Please look under your beds and in bookshelves at home for any books with Mrs. Fraser's name or Miss Lepp's name on the inside cover.  I would greatly appreciate all personal books returned to my own classroom library this week.  Thank you so much!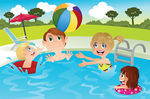 YEAR-END CLASS SWIM PARTY
We look forward to celebrating the accomplishments of our third graders with a "Class Year-End Swim Party" held at the home of Charlie and Jaime DeGroot, Faith's parents, on Friday, May 15th from 10:00 AM -2:00 PM.  All are welcome to attend.  There is a sign-up sheet in the hallway near our classroom for food and supplies. A certified lifeguard  will be on duty and is covered through your child's tuition.
You do not need to come to our campus first.  If you will need a ride from school, please let me know, as we will not be organizing formal carpools. You will also need to pick up your child after the party is over, or make arrangements for them to get home. We will not be going back to People's Campus.  Again, if you need help with this, just let me know.
Directions to the DeGroot home will be sent home in today's RED FOLDER.  Please contact Jen Alberta, Becky Covington, OR Jaime DeGroot if you have have any questions.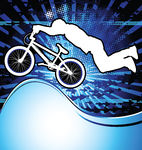 BMX SHOW
As a school reward for the outstanding participation in the FCS fundraisers this year, all elementary students will be invited to the BMX Show this Monday, May 18th from 2:00-2:45 PM on the front parking lot of Peoples Church Campus.  Parents are invited to join us if you would like.
SIGN-UPS FOR FALL  SOCCER
The time to start signing up for FC's elementary Fall 2015 soccer is almost here!  Sign ups will take place by the pick up area on

May 8th

, 13th, and 15th.  Flyers will be sent home with all the information on

Monday, May 4th

.
ELEMENTARY DRAMA
Thursday, May 14th Grades 1-6  are invited to the last dress rehearsal for this semester's play, The Girl with the Golden Locks directed by Mr. Broersma, Elementary Drama Director and performed by the 5th and 5th Grades Drama Electives Class.  The performance will take place in the North Lobby Chapel from 8:00 AM-9:00 AM.  Be sure to be on time for school.  Mr. Broersma's 5th and 6th Grade Drama Classes always deliver a highly entertaining production!!!!
BIBLE
We continue our study in Unit 5 of God's Law in Exodus with our "Journey from Egypt to Canaan" Booklet.  We will focus on the Old Testament Exodus stories of Moses and Jethro,  The Giving of the Law,  The Ten Commandments:  Love God Above All, and The Ten Commandments:  Love Your Neighbor.
MATH
Students have explored an exposure to beginning fractions and this week will be introduced to two-digit and three-digit multiplication with regrouping in preparation for fourth grade.
LANGUAGE ARTS
We  continue practice prompts in personal letters focusing on organizing ideas to include all 5 parts of a personal letter:  date, greeting, body, closing, and signature. We will concentrate on using complete sentences, correct grammar, indentation, capitalization, and punctuation.  We will also complete our Scholastic Reading Inventories this week on Monday, May 11 during Computer Lab to measure our lexile level growth in comprehension.  We will review cursive handwriting techniques for connecting letters and writing fluently.
SCIENCE
We will study an Earth Science unit on comparing the sun, moon, and Earth.  We will learn what the moon is like, what it is like to be on the moon, and what the sun is like.  We will study about the motions of Earth each day and throughout the year.  We will explore what causes seasons and eclipses.
SOCIAL STUDIES
We will begin Unit 5 Standing United with Chapter 9:  America's Cherished Ideals which includes National and Local symbols, American Landmarks, Identifying State Capitals and Borders, Songs and Words of Liberty, Telling Fact from Fiction,  andFighting For Our Freedoms,
 WATER BOTTLES
Be sure to bring a water bottle every day for the last two weeks of school to help your child stay hydrated during rising temperatures of recess and P.E.
Parents are welcome to attend our last chapel of the year at the People's Campus on Wednesday, May 20th from 12:45-2:45 PM in the GL Johnson Chapel for Grades 1-4.
TEXTBOOK INVENTORY
Please return all hard bound textbooks by tomorrow including math books, social studies book, science, or language textbooks.  We are conducting textbook inventories.  These books are quite expensive and students will be charged for textbooks they do not return.  Thank you for helping your child be responsible for all school books needing to be returned.
BACKPACKS
Please continue to bring your backpack to school each day this week.  We will be bringing home several things.
YEARBOOK SIGNING
The children will receive their Memory Books on Friday, May 22nd after first recess.  Please send a ball point pen with your child  for an autograph signing time. The pages are glossy, so a marker pen does not work.  The children love this time together and look forward to saying their summer farewells.
COMING ATTRACTIONS
MAY
Tuesday, May 12 – S.O.A.R. Chapel  8:05 AM- 8:45 AM North Lobby Chapel
Thursday, May 14 – The Girl With the Golden Locks (Assembly for Grades 1-6 8:00 AM-9:00 AM)
Friday, May 15 – The Girl With the Golden Locks/Elementary Drama for Public 7:00-8:00 PM
Friday, May 15 – Third Grade End-of-the-Year Class Swim Party
Monday, May 18 – BMX Show 2:00-2:45 PM
Wednesday, May 20 – Grades 1-4 Awards Chapel 12:45-2:45 PM
Thursday, May 21 – Happy Birthday Miracle Neal!
Thursday, May 21 – Half Day Release at 12:00 PM
Friday, May 22 – Memory/Yearbook Signing/Bring Your Favorite Pen!!
Friday, May 22 – Last Day of School/ Half Day Release at 12:00 PM
SUMMER BIRTHDAYS
Sunday, June 14 – Happy Birthday Mia Alberta!
Sunday, June 28 – Happy Birthday Michael Herrera!
Tuesday, July 21 – Happy Birthday Troy Covington!
Friday, July 31 – Happy Birthday Mrs. Fraser!
Wednesday, August 5 – Happy Birthday Mrs. Dansby!
Tuesday, August 11 – Happy Birthday Alex Fox!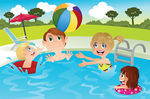 Friday, May 23 – Memory Yearbook Signing
FRIDAY, MAY 23 – LAST DAY OF SCHOOL! / HALF DAY RELEASE @ 12:00 PM