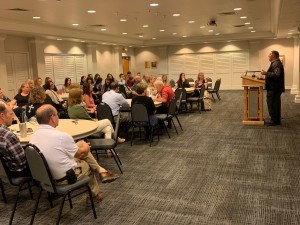 In mid October, Fresno Christian Schools completed the process of renewing both its ACSI (Association of Christian Schools International) and WASC  (Western Association of Schools and Colleges) accreditation, and now await the official results of the 2018 accreditation report.
The WASC accreditation is a requirement for high schools across the nation. This creates a uniformity between high school diplomas on a national level. Christian schools acquire an ACSI accreditation to prove validity in teaching and Biblical integration.
Fresno Christian Schools has been an accredited school since its inception in 1977. While Superintendent Jeremy Brown has been a part of other accreditations, he just completed his first ACSI renewal.
"The other visits that I have been a part of were with ACS WASC," Brown said. "This is my first six-year review with ACSI. What I love about FCS is that our students come from over 90 different churches in the San Joaquin Valley. There is a wonderful culture as a result of that much spiritual diversity."
As with most accreditation reviews, the collaboration between administration, teachers, and staff are a crucial part of the process. Principal Amy Deffenbacher is encouraged by the positive comments shared by the visiting accreditation team.
"The team was impressed by the amount of work that has been accomplished in the years since the last accreditation visit," Deffenbacher said. "The team was encouraged by the quality of our staff, their love for Jesus, and their love for students."
In her new full-time administrative role, elementary principal Katie Reneau enjoyed hearing about all facets of campus, areas of strength as well as growth opportunities. She said it was refreshing to see the staff was involved in the self-study process.
"The accreditation process was an eye-opening experience for me," Reneau said. "I was so grateful for the process, and am even more excited for the work that's ahead, as a result of the visit. Our staff researched and interviewed each other in order to report their findings of our school, truly making the experience a team effort. Since the visit, I've enjoyed the conversations we've had as a staff. Teachers and faculty members want to know where we're going next, and how they can be involved."
Brown appreciates the commitment and self-sacrifice of the accreditation team as their visit's purpose is meant to confirm and encourage school growth and excellence.
"I love visiting with the accreditation team," Brown said, "and, in this case, they all had a connection to private Christian schools through either family, attendance or they were currently working at one. The process of accreditation is intense but, at the heart of it, is collaboration and the desire to help others. The visiting team members do not get any compensation for being on the teams. Many of them are still responsible for things back at their schools and they leave their families for 3-4 days. It is a sacrifice. So their motivation is to learn, collaborate and serve. Our visiting team was all of that and more."
While the final results and official report are still weeks away, the accreditation team shared positive and glowing verbal comments upon completing their visit.
"Overwhelmingly, and at every level," Brown said, "their (accreditation team) comments were positive about our people: staff, students, parents, board…everyone. Our structure is good but our people are great. Of course, I knew that from the first day on campus five years ago."
Deffenbacher agreed and is excited about Fresno Christian's future in Fresno.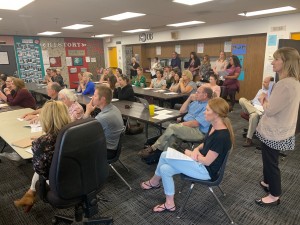 "The commendation and action items in the preliminary report are all things that we've been talking about and making plans for," Deffenbacher said. "It is exciting for us to have had confirmation from fresh sets of eyes that we continue to head in the right direction! The accreditation team did a thorough job of visiting with people from all corners of the campus (staff, students, parents). Thank you FCS community for welcoming the team so well!"
In the coming months, after both WASC and ACSI officially report their findings, Brown will speak in a spring FCS Town Hall, sharing the school's Continuous Improvement Plan. Reneau sums up what all three administrators were feeling about the school moving forward.
"The commendations were reminders to celebrate the good that happens on our campus, daily," Reneau said. "Sometimes, it's important to reflect on how far we've come, and celebrate the greatness on our campus, pausing from the ever-present desire to find needs and fill them."